I went through a phase a few years back in which I was constantly on the lookout for movies to inspire entrepreneurs. Sound familiar?
However, not every entrepreneur movie is created equal and I found some to be pretty cheesy. For example, Boiler Room is decent but when you watch the Wolf of Wallstreet, it fades as quickly as Harvey Weinstein's reputation.
And that's the first on this list for movies to inspire entrepreneurs…
10 Movies to Inspire Entrepreneurs
1. Wolf of Wallstreet
I read this book back in 2008. Believe it or not, I had just quick my job as an investment advisor to go travel the world. It was one of the best books I had ever read and surprisingly inspiring. In other words, we all know that Jordan Belfort was a greed-driven madman but there was also something remarkable about his achievement. You can see this in the movie, too. I've watched it maybe five or more times and it never fails to leave me inspired.
2. The Founder
My favourite part of this movie is when Ray is listening to his positive affirmations. In fact, I have used a similar process ever since. Anyway, Ray is a salesman who meets the owners of a burger joint in California. After realising the potential of the restaurant, he decides to make McDonalds the biggest restaurant on the planet.
3. The Social Network
Whatever you think about Mark Zuckerburg or Facebook, this story makes for one of the best movies to inspire entrepreneurs. It's also completely true and shows how the biggest social network of all time was started in a tiny bedroom. For me, it's especially inspiring because it really shows how the online world has levelled the playing field and made anything possible.
4. The Big Short
One of my favourite movies of all time. The Big Short recounts the sub prime crisis and how the financial system came tumbling down in 2008. Reading between the lines, this is also a tale that showcases the importance of sticking with your guns and holding true to what you believe. It's especially relevant with what's going on in the world this year.
5. Joy
Joy Mangano is a home shopping entrepreneur and the inspiration behind the movie "Joy" starring Jennifer Lawrence. Although many critics have slated the movie, it has almost five stars on Rotten Tomatoes. In my opinion, this is one of the best movies to inspire entrepreneurs and I absolutely loved the simplicity of the story. That is to say, Joy did not have any privilege or advantage, and yet went on to build an incredible business empire on the back of her relentless drive and determination.
6. Wallstreet
Had enough of Wallstreet yet? Michael Douglas is phenomenal in this movie. Set in the mid 1980s, this tale of greed and determination is a decent insight into the cut throat nature of business. At the same time, it's a not just one of the best movies to inspire entrepreneurs but rather a great thriller/drama that should hold your attention until the lights go out.
7. The Pursuit of Happiness
You know, I really did not see this as a movie for entrepreneurs. However, a few people named this one in an entrepreneur Facebook group. For this reason, I went and watched the movie again last night and well, they were right. The Pursuit of Happiness is definitely a movie to inspire entrepreneurs and I believe the feel-good message in this one is needed now more than ever.
8. The Greatest Showman
I never heard of this one but according to one user of the above mentioned group, this is the ultimate entrepreneur movie. In fact, Jerard says that you will find endless entrepreneurial lessons. For instance, having the guts to pursue a business, spotting opportunities, building a team and being creative. I really want to see this one now. Have you see it?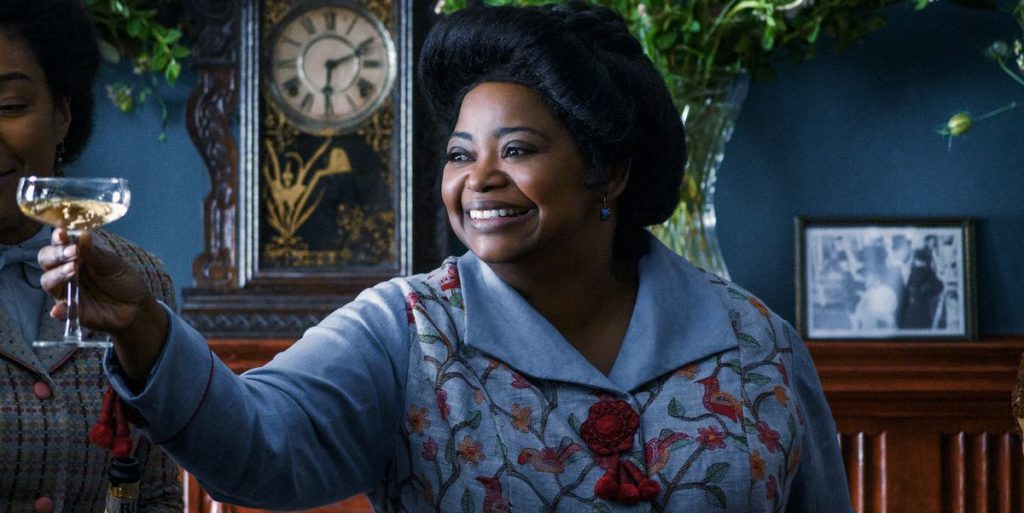 9. Self Made
I'm going to watch this movie tonight. I'm also very interested in stories about African Americans in particular because I spent more than five years travelling around the African continent. Self Made is about a washerwoman that comes out of poverty and builds an immense beauty empire. According to the Guardian,
10. Glengarry Glen Ross
I watched this more than fifteen years ago when I was working in investments. After watching the movie, I started to get up at 5.30 every morning and even took a night college course in stockbroking. Glengarry Glen Ross is a great lesson in sales. It's about a group or real estate salesmen in New York who have one week to compete against each other for their jobs. It's an interesting watch and although slightly outdated at times, the theory and sales talk will always be relevant.
By the way, I'm a full-time content writer that helps small businesses get more leads. Get in touch if you need a decent writer !