Google have recently released a new algorithm update called the Medic Update. Have you heard about it? Do you even care? You should.
And here's why:
I was completely oblivious to the meaning of these updates in the past. However, this seems like a rather dumb approach a case of cutting your nose off in spite of the face.
After all, Google is the rule-maker and you need to follow the rule to be visible on search.
What is the Medic Update on Google?
Anyway, Google's latest algorithm update is called the "Medic Update" and according to Yoast, this update has some important changes that you might want to know about.
But why is it called the Medic Update?
It was called the Medic Update by Barry Scwartz, a prolific SEO content writer and in case you might be asking yourself, here's what Google had to say about it: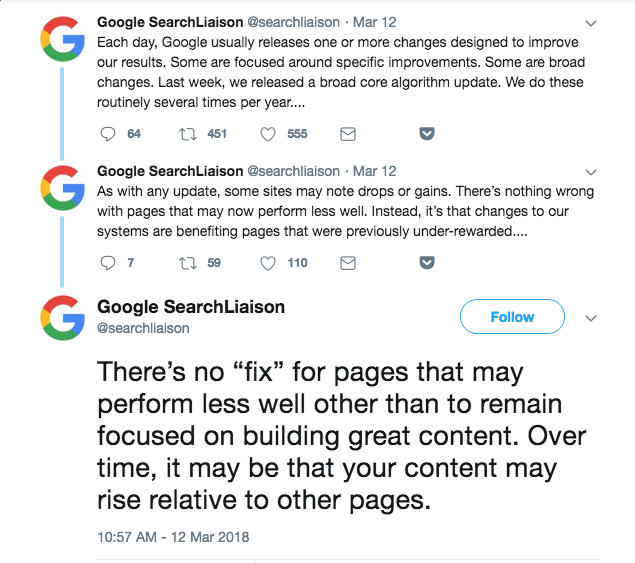 What Does the Medic Update Even Mean?
Well, aside from Google insiders, nobody ever knows what any of these updates entail. That being said, there are already some reliable independent studies which suggest that Google is showing a strong preference for authority websites in particular.
Okay, no surprise there but wait, there is something worth noting…
You see, the Tweet above is actually quite anecdotal and a typical statement from Google. It would seem that the search engine is merely saying that they want to show results that better fit the intent of any given search. And this would make sense because…
Google recently updates their guidelines with a new concept called "beneficial purposes". Simply put, Google has teams of individuals who manually audit and rate the content on websites. But with this new addition, they don't just check quality, they also rate the page based on whether the reader will gain something from the content – some beneficial purpose..
An Example of How Beneficial Purpose Works
For example, if I perform a search for "apple pie", Google will bring up a range of searches including how to make apple and where to buy apple pie.
However, if I perform a search for "Buy apple pie", Google will exclude any "How to" results and only display a list of where to buy apple pie.
Needless to say, the more specific you can be with keywords, the more likely it is that Google will favour your content. Likewise, this could be very beneficial to long-tail keywords in particular.
One Last Thing About the Medic Update
According to Aaron Radcliffe at Ditch Your Desk, the Medic Update is also showing a strong preference for websites that they KNOW are run by people. In other words, not spammy affiliate sites or poor quality blogs.
"Here's a quick win for you – make sure your website's 'about' and 'contact' pages are super thorough and super awesome. Include your experience, and why you are an authority in your niche – don't hold back! This helps your audience and Google know that you are a) a real person and b) an authority in your niche. Google will reward you for this effort with trust and higher rankings." – Aaron Radcliffe
Moral of the story: Expertise, Authoritativeness, and Trust Always Win!